Bridal Bliss Website Launch Party!! I Am So Excited To Share This Project!!
Tomorrow I am flying out of Seattle and into the sunshine that awaits in SoCal ... but before I go I am excited to share this completed project with you! Nora Sheils of Bridal Bliss hired me to fully redesign her website and when I got her call I was SO excited!! I have been a huge fan of Nora and the weddings that Bridal Bliss creates from the Style Unveiled days and being able to work with her again on this was such an incredible experience.
Below are screenshots of the website Bridal Bliss had prior to hiring me: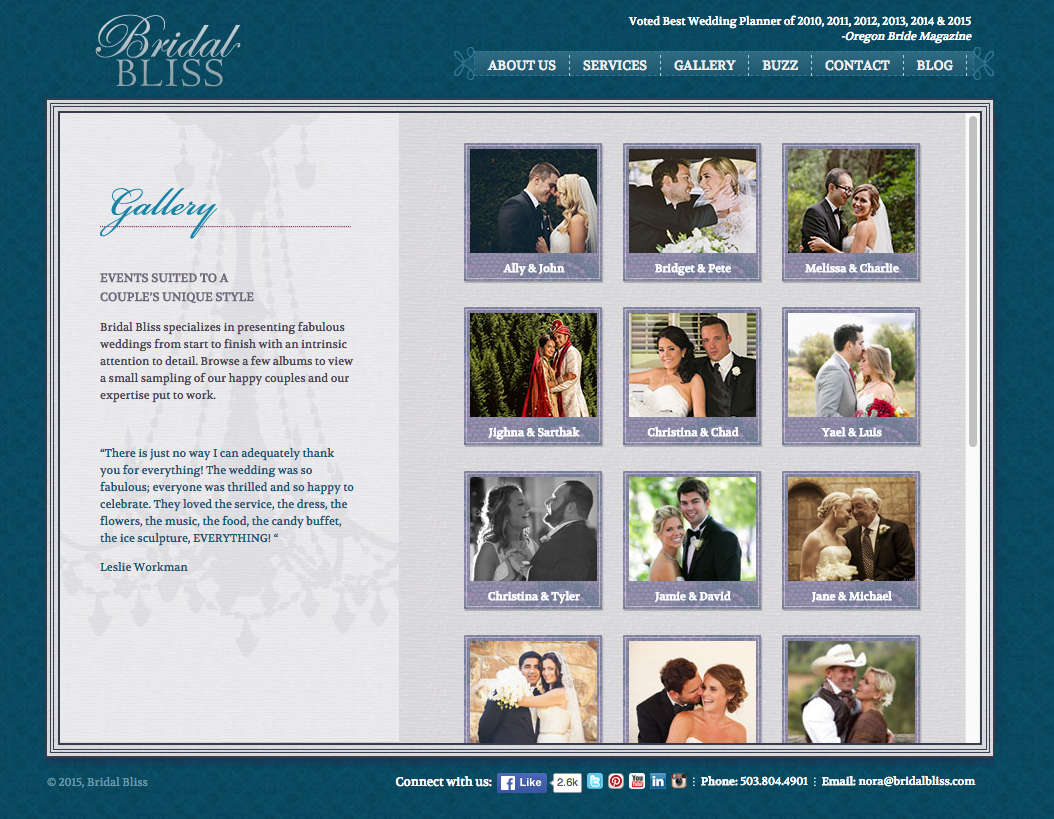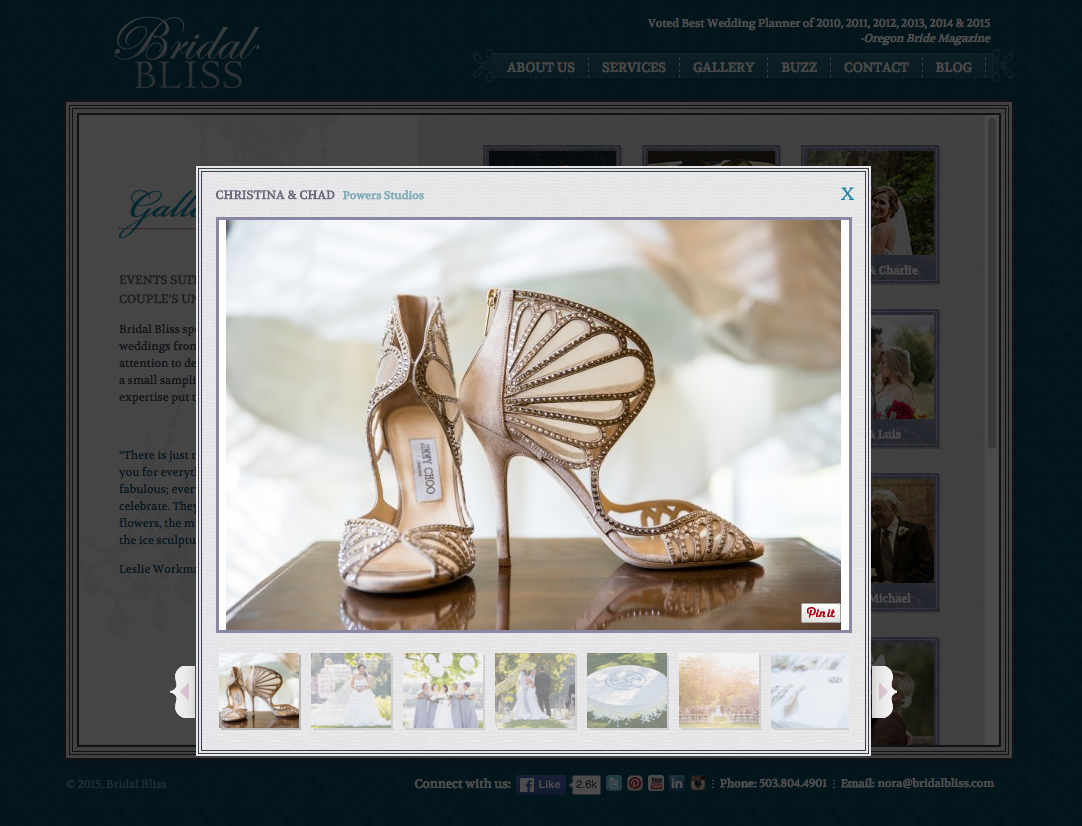 Nora and her team at Bridal Bliss create incredible Portland and Seattle weddings and I knew we needed to capture an emotional response right away from visitors. I created a homepage that not only supported the brand that Bridal Bliss upholds, but I also added some 'bragging rights' with the 'best of badges' (which I changed to rose gold for added gorgeous) so that a visitor knew RIGHT AWAY that this company means business and are amazing at what they do. See below the homepage I designed:
For their portfolio landing page I wanted to create a space that increased their page views - which in turn will tell Google that this website is important to visitors and increase the user experience score that search engines apply to websites. This page currently hosts 21 'windows in' to view weddings and events that Bridal Bliss has planned and designed. See below a sneak peek at how that page works:
The services page for Bridal Bliss needed to be beautiful, functional, and easy to understand. Nora and her team offer a number of wedding planning packages and I wanted them all to be present right away so that a bride can easily 'click and choose' what she wants more information about. This is one of my favorite pages on the new Bridal Bliss website. Below is a screenshot of the services landing page:
I believe that this new website will be a huge hit with potential clients who visit. I can already see that people are clicking through and there is ZERO bounce rate. I love it and I know that Nora loves it. Win win :) Below is a testimonial that Nora sent me about her time working with me on this project:
"Working with Heather was a dream. I knew at first look at her portfolio that I wanted her to rework my site. She was able to take my initial wants and needs and create them into a functional site more beautiful than I could have imagined. She understands what works and what doesn't and has an amazing sense of design. I will be the first to admit that I'm a bit high maintenance and a perfectionist when it comes to something so important to my business, and Heather was able to answer all my questions and allow me to express myself without feeling like a bother. If something couldn't be done because of Squarespace limitations, she would always have a great solution that I was thrilled with.
I absolutely love my new site and I owe it all to Heather. I value her industry experience, her honesty when she isn't loving something and most of all the understanding of how my prospective clients think. This woman has some serious talent and I'm so happy that some of that could be spent bettering the Bridal Bliss brand! Thank you Heather!!"
Bridal Bliss Team, I am SO excited for you!! It was an honor to design this for you :)
XO~ Heather