Website Launch For Fête Nashville Luxury Wedding Planning!
My clients ... man, are they incredible!!! Yesterday I launched a website for an Australian tv personality and fashion blogger and today I am announcing the website launch of my design for Fête Nashville who plans weddings for celebrities like Shawn Johnson and has Rascal Flatts sing at her planned weddings!! Craziness. Sara Fried, owner and founder of Fête Nashville was inducted into The Knot Best Of Weddings hall of fame and she is ahhhhhh-mazing!! She hired me because she wanted a website that reflected all that awesome and I was more than happy to deliver!
Below are screenshots of the website Sara had before she hired me: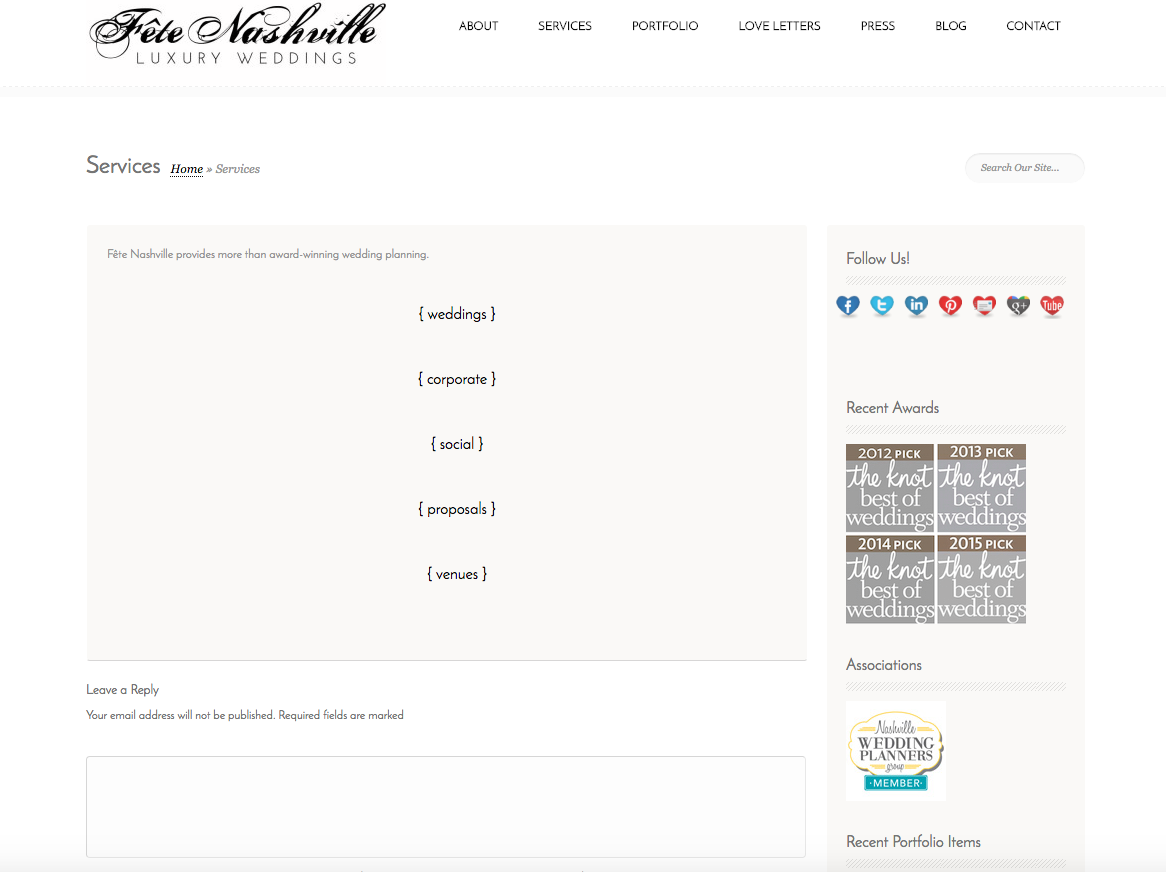 Sara and I discussed lots of ideas for her new website and one of the most important parts was letting her luxurious weddings speak for themselves - a stripped down website that allowed the visitor to see just enough to contact her, but not too much to feel overwhelmed and chaotic. I believe we found the perfect balance and I love what was created for their online face.
Below is a screenshot of the blog landing page ... as Sara blogs more this page will fill with vertical images as 'sneak peeks' to open the blog posts she publishes :)
Fête Nashville has two galleries: one for real wedding photos and one for the real wedding video clips :) Below is a screenshot of the gallery landing page for the videos .. what I love even more is that when someone does go into a page from here they can click through the rest with the click of the mouse! Let's get those page views rolling!!!
Sara, I loooooooove your new website!!! SO pretty!! SO impressive!! I can't wait to see what this new website does for Fête Nashville! Congratulations!!
LINK to the live website: http://www.fetenashville.com/
XO~ Heather