Ring in 2016 With This GORGEOUSNESS: My Website Design for Michelle Leo Events
I can't think of a better way to ring in the new year than with the launch party of a gorgeous website I designed! Working with Michelle of Michelle Leo Events (a Utah wedding designer and planner) on this website was like straight out of a dream ... when I was the editor of Style Unveiled I would drool over her weddings and editorial shoots from afar and hoped that one day I would feature her ... and while that day never came I can happily say that she chose **ME** to design her dream website ... and that is something I can't even think about silently to myself without hosting the cheesiest grin on my face.
Michelle had a beautiful website when she came to me ... in fact, her website is one that I get sent as 'examples' of what my clients love for inspiration as I design for them ... but, sadly, her website wasn't optimized at all ... not for mobile devices, not for Pinterest, and not for Google ... she needed something that was beautiful, branded, and designed in a way that made sense to her visitors but that was also following the rules of Google and their new algorithm.
Here are some screenshots of the website Michelle had when she hired me to design for her:
One of the reasons my clients hire me is because I create CLEAN designs ... I like my white space and I like websites to be well branded with gorgeous images ... so let's just say that when Michelle sent me her Dropbox full of goodies - well, I was in Heaven. Michelle is famous for her weddings and her styled shoots .... and I got them all: every, single, one ... it was amazing.
I wanted Michelle's gallery landing pages to be a lot cleaner than her old website and created a page that was well branded and made sense ... we did the same with her services pages and kept that consistent throughout the entire website. Below are a few screenshots of my design for Michelle and her fantastic team: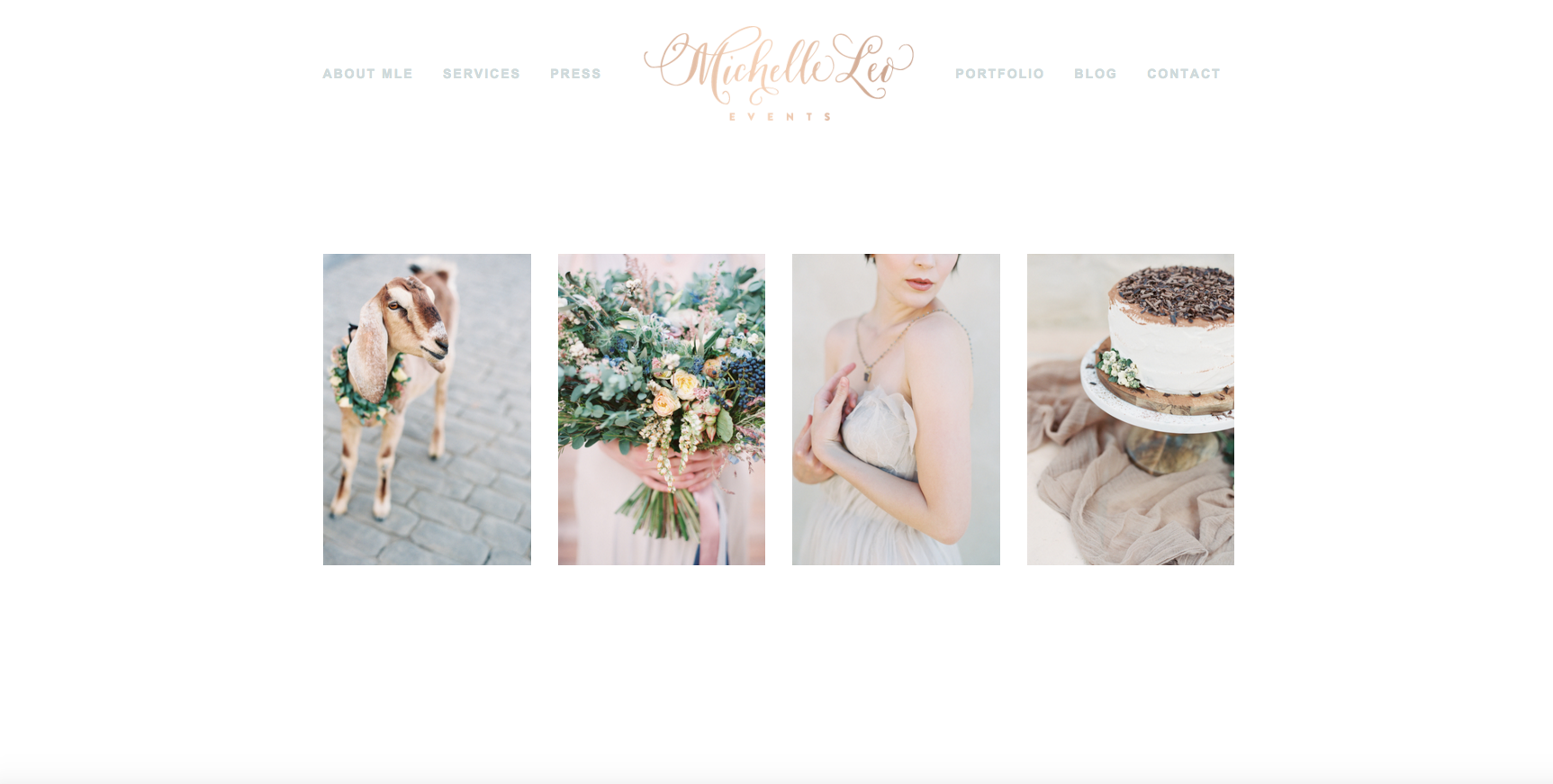 Michelle sent me this after our work was done and I wanted to share it here:
"Where do I even begin to describe the night and day difference I've had working with Heather to build my absolutely gorgeous DREAM WEBSITE?!

I don't know one business owner who gets stoked over all the daunting hours of work and decisions that have to go into creating a website. And "updating" or "redoing" a website is never as easy as it sounds. Plus, it's never cheap. I've been through so many website designs that when I started to even think about updating my old site, my stomach would churn. I knew it meant time I didn't have and patience that was already spent. Oh, and let's not even discuss how much $$ I've spent on past websites that haven't worked for me. In a nutshell, I've struggled to find a positive and comforting experience when embarking on the always dreaded, never-enjoyable website journey.

That is, until I met Heather.

For the first time since launching my business I have FINALLY found someone who cares about my website as much as I do. And Heather is so much more knowledgeable than I could ever pretend to be when it comes to creating and optimizing a website that will do what it's supposed to do - work hard, bring me business and represent the brand and company I've worked so hard to build. Websites should work smart and hard so you don't have to. Before I met Heather, my fancy expensive website was doing none of those important things for me. It wasn't even optimized for mobile traffic if you can believe that (rookie mistake I made because I wasn't properly informed by previous web designers).

When Heather and I first started discussing this journey, I was more than unsure of a lot of things. It took me a few months to even sign her contract (not because I had doubts about her an her abilities, but because that's how much I dreaded website do-overs. It had never been a positive experience before). Looking back, I wish I could back up and tell my hesitant self "What are you waiting for?! Sign that contract! Get started NOW! You won't regret a single thing!"

But since I can't make up for lost time, I'll do my best to help you not make the same mistake. Whatever excuse you're telling yourself, whatever time you're worried you don't have, and whatever budget you think will break you - put all those worries aside. There is no other person I'd rather work with. In fact, I'm kind of sad it's over (did I really just type that? ME- the person who hated anything website related?!).

In Heather you will find talent, honesty, full disclosure regarding what can and can't be done (which is refreshing because so many people over promise and under deliver), and a funny person to laugh and joke with through it all. Her eye for design is unmatched and she has the patience of an elephant (I can be super indecisive but never once felt pressure to just make up my mind so we could move on). Heather helped me make decisions that were right for my brand and business. And in addition to all of this, she went above and beyond to coach me on some really tough decisions and hold my hand through a major (and really scary) business expansion.

But enough of my gushing. Just go hire her already!"
Thank you, Michelle and the entire MLE team of awesome for trusting me with one of your biggest tools: your website. I love how it turned out and I can't wait to hear how other people react to your new look!!
Here is the link to view the live, working website: Michelle Leo Events
XO~ Heather